TAKE A VIRTUAL TOUR INSIDE A WATERFRONT APARTMENT
AND WALK AROUND THE MAGNIFICENT CORIO BAY ON OUR DOORSTEP
Click & drag in the image above, follow the arrows, full-screen icon at the top-right corner, zoom in & out with your mouse.
Whether you are travelling for business or pleasure The Waterfront Apartments Geelong offer affordable and comfortable holiday or corporate-stay accommodation on the shores of Corio Bay within the Geelong CBD.
We are conveniently located beside The Novotel Hotel on the Waterfront at the corner of Eastern Beach Road & Yarra St Geelong.
The Waterfront Apartments Geelong Complex is surrounded by cafes, restaurants and other iconic Geelong attractions. We are within short walking distance of the Eastern Beach precinct and the Deakin Waterfront Campus
Our apartments feature quality fixtures and fittings. offering 1 and 2 bedrooms, accommodating 1-6 people with a minimum stay of 2 nights.
Geelong Waterfront Apartment Accommodation
Choose between 5 beautifully designed apartment styles located on the magnificent Geelong Waterfront or from the 4 delightful townhouse styles in the bustling Geelong CBD fringe close to the Waterfront.
Access to the heated indoor pool at The Novotel
Geelong TOWNHOUSE
ACCommodation
Our 2 Swanston St townhouses accommodating 6 or 8 guests are often utilised separately or together for extended families, groups of friends, corporate and club events or stays in the Geelong city area.

Other Accommodation Types ›
Let us help make your stay in Geelong one to remember.
Call us for questions, or recommendations on which apartments best suit your needs.
The friendly local team of staff will ensure your hassle free accommodation requirements.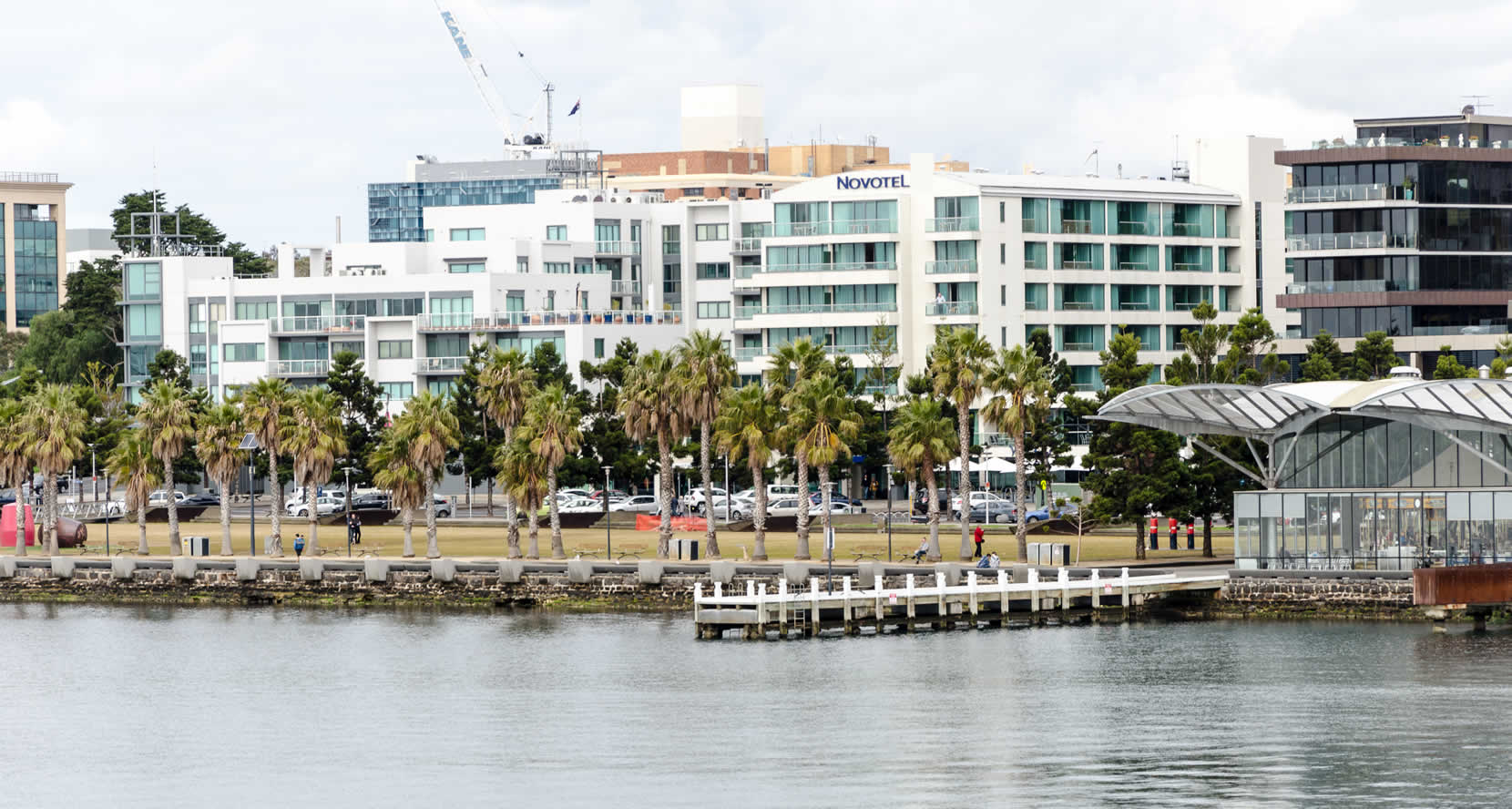 The Waterfront Apartments
Free high-speed Wi-Fi internet now available to all apartments.
The Waterfront Apartments Geelong offer the guest 4 different apartment categories to choose from.
For photos and apartment-specific information on each type of apartment please click on the links below.
Amenities and Features
TV, DVD, dishwasher and microwave
All linen supplied
Private laundry
Private balconies
Free high-speed Wi-Fi internet now available to all apartments.
Surrounded by restaurants and cafes
Corporate and long-term rates available
On-site undercover security parking
Eastern Beach, Geelong
Other Geelong City Apartments & Townhouse Accommodation Available
Booking Enquiries
Booking ENQUIRY
or Phone Booking & Questions?
OUR BOOKING OFFICE HOURS:
Monday - Friday 9am - 5pm
Saturday 10am - 4pm
If you would like to book one of our beautiful apartments, please use the form. Once we receive your Booking Enquiry, we will promptly contact you to confirm availability and secure an Apartment.
If you would like to check availability or book with us over the phone please contact us by clicking here.
CORPORATE OR LONG TERM BOOKINGS?
For long term stays (1+ week) or Corporate enquiries please call us for Corporate rates & information.
APARTMENT PHOTOS
To see photos of our Waterfront Apartments click here.
Contact Us
To make a booking please visit our Booking page, or we welcome any of your enquiries using the below contact details.
Apartment Contact Details
2-4 Yarra St
(Corner Eastern Beach Rd & Yarra Street)
GEELONG 3220 VIC
Office Contact Details
Monday - Friday 10am to 4.00pm
Saturday 10am - 1pm
Phone:+61 3 5222 1370
Fax:+61 3 5222 1370